Governor Punjab took oath of office from the 21-member cabinet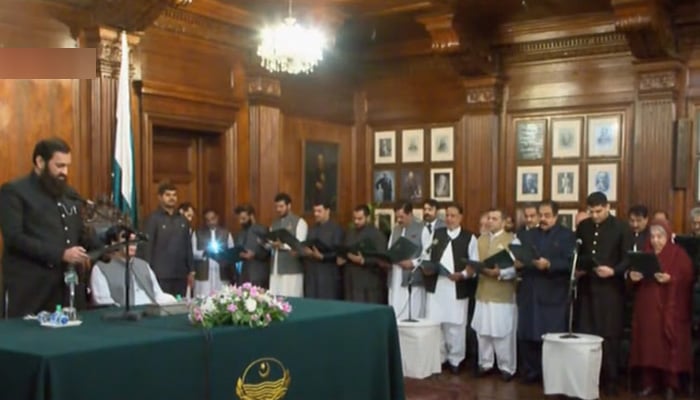 Lahore: The swearing-in ceremony of the Punjab Cabinet was held at the Governor House.
Governor Muhammad Balighur Rehman administered the oath of office to the 21-member Punjab cabinet. Chief Minister Punjab Parvez Elahi also participated in the swearing-in ceremony.
Those who took the oath include Mian Aslam Iqbal, Ali Abbas Shah, Mohsin Leghari, Taimur Malik, Basharat Raja, Nisar Majeed Niazi and Raja Yasrahmayun.
Apart from this, Muneeb Sultan Cheema, Shahabuddin, Murad Ras, Dr. Yasmin Rashid, Khurram Shehzad Work, Muhammad Hashim and Ali Afzal Sahi also took oath.
Nawabzada Mansoor Ali Khan, Hussain Jahanian Gardizi, Ghazanfar Abbas Chhina, Latif Nazr, Hasnain Bahadur Darishak and Mian Mahmood-ul-Rashid are also among the 21 members who took oath.
All the people included in the Punjab cabinet belong to Pakistan Tehreek-e-Insaaf, there is no member of Muslim League-Q in the cabinet.
.