Parvez Elahi dug his grave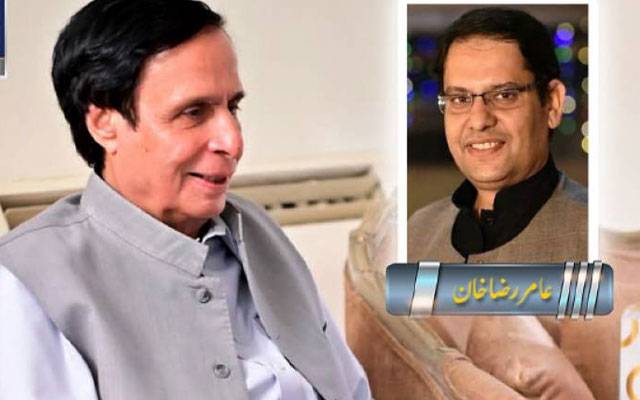 At the behest of Pakistan Tehreek-e-Insaf Chairman Imran Khan, PTI's Save the Nation, election cry campaign is going to start from today. What to do? Before starting this activity, a lot of thought is done. It has been decided that the initiative of the movement should be gradually developed in each district to be monitored by a monitoring cell, to know who is an active worker and who is not.
The plan is very good but one problem here is the internal politics of Pakistan Tehreek-e-Insaf where no Mian will tolerate any Azhari and no Rashidi will tolerate any Chaudhary. Khar and Gujarat are done with this city's money, PTI MPAs and investments. MNAs are so helpless that they are hiding their faces in their areas and taking fake credit for other development works. But they are trying to beautify.
Just one example of this is that the main highway in Murgazar Colony, Lahore, where I live, has been damaged for five years. Millions of people in and around this area are worried. Me and Anwar Rana myself did not go. Which gate is for the construction of this road, the area is MPA Nadeem Bara, MNA Karamat Kokhar, Commissioner Lahore, DC Office but we have been answered half way Hamad belongs to Azhar, half of Karamat has fallen in Kokhar constituency, 12 crores will be used for drainage and road construction and if it is not added, the president of the society with the help He has started his work.
The matter does not end there when the construction of the road started, MNA Karamat Chokhar visited the road and on Facebook, on the orders of Imran Khan, Karamat Chokhar was watching the construction work of the constituency day and night. It is false, so now the residents of the community have released a banner saying that the government or MPA and MNA have no role in the construction of this road. The only reason why it is not built is not only because of the statement of Punjab Chief Minister Pervez Elahi that Pakistan Tehreek-e-Insaf is digging the graves of politicians, but in this process, they are making political graves in the city, only weaving and burial ceremonies remain, Tehreek-e-Insaf at least in the big cities, these graves Prepare. After that, only arrangements will be made to bury him. The failure of these demonstrations.
Pakistan Tehreek-e-Insaf Chairman Imran Khan Niazi's "Election Cry Malik Bachao" rally won't make any big impact. Khan Sahib should stay out of political YouTubers, so think that people giving this advice may not know the real facts on it. These YouTubers, in the opinion of some of Imran Khan's colleagues, have created a trend of Shahbaz government covering 27 kms, thus implying that PTI government is responsible for non-development activities in Punjab. They are facing problems like security, crimes. In big cities they have exceeded Karachi, people are being robbed in broad daylight Punjab government is trying to save CCPO Ghulam Dogar.
Constituency wise scan is pouring in, all mentions corruption and money wasted in contracts and appointments, development funds are being spent by Chowdhury Brothers for non-PTI Mandi Bahauddin and Gujrat only, so Tehreek-e-Insaf is definitely being talked about. As these demonstrations cannot achieve the desired objective, eleven demonstrations will be held in eleven days to thwart these demonstrations with mutual differences and the "friendship" of the Punjab government. Traffic will be congested in various areas. City for 11 days, so people pray for PTI? These bad prayers and neglect of construction work will follow PTI to the election grave. If you don't understand the outcome of the still ongoing war of words between Munis Elahi Pata Parvez Elahi and Imran Riaz Pata Imran Khan on Twitter, then you must be delusional.
.