Protests in London: Outrage over illegal immigration bill Protests are taking place in Britain – Anger over UK immigration bill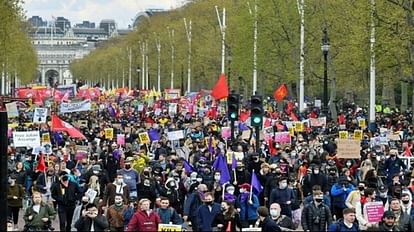 London protests (reference photo).
Photo: ANI
Expansion
In Britain, people took to the streets to protest against the government's 'illegal immigration law'. According to Anadolu Agency, on Saturday in various cities of the United Kingdom, protesters held demonstrations against the government's illegal immigration law. Thousands of people attended the rally, organizers said. Protesters gathered outside the BBC headquarters in Portland Place, central London, chanting "Immigrants welcome here".
According to the report of Anadolu Agency, the rally was organized under the slogan 'We will fight against racism' and was supported by various organizations, including the Stop the War Coalition, Black Lives Matter, Muslim and Jewish communities and many associations. and environmental protection organizations – received support from various groups and organizations.
The opposition rejected the Conservative Party's immigration policies and criticized the country's Interior Minister Suella Braverman over the controversial "Rwanda Plan" and the recent "Illegal Migration Act". At the rally, protesters waved banners and posters saying "Stop migration", "Safe passage, no flight to Rwanda" and "Seeking asylum is not a crime". Protesters later marched on Downing Street.
The opposition Meli, who spoke to Anadolu, said that she joined the demonstration to show her solidarity for the fair treatment of immigrants entering the country. He said the government's plan for Rwanda is "illegal" because everyone should have a choice. He said the plan had caused "stress and trauma" for many refugees.
In a statement issued by the British government, the British government's illegal immigration law, which was issued in March of this year, provides for the removal of people who have entered or arrived in the United Kingdom in violation of immigration control. The law seeks to protect immigration purposes. The bill seeks to prevent unaccompanied minors, victims of slavery or human trafficking from entering and remaining in the UK, the statement said.
The United Nations Refugee Agency (UNHCR) has said the UK's illegal immigration law violates international law, after the UK Home Secretary introduced the illegal immigration bill. The United Nations refugee agency (UNHCR) said in a statement that British Home Secretary Suella Braverman this week introduced legislation aimed at tackling illegal migration across the English Channel to Britain. If passed, this bill would result in a ban on asylum.
British Prime Minister Rishi Sunak has said that migrants arriving in Britain illegally by boat will be arrested, deported and banned from re-entering the country. "The British people are being treated unfairly by people who come here legally and people who play by the law," Sunak said. This law introduces new laws to stop illegal immigration boats. Last year, over 45,000 people crossed the English Channel illegally in small boats.
,