EXCLUSIVE Bengali Serial: Missing the opportunity to work with Kajol, this Bengali actor withdrew from the Bengali serial. Why have bengali actor rahul dev bose decided to quit serials and what are his goals

Rahul Dev Bose: He wants to move to Mumbai to train himself as a better actor. What did Rahul tell TV9 Bangla in this regard?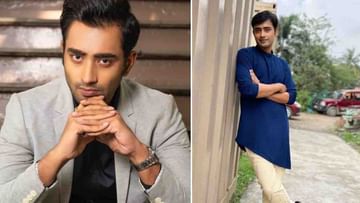 Rahul Dev Bose.
Sneha Sengupta
young actor Bright, gentle appearance. He has acted in Bengali serials one after another. He was never cast in a role tied to the past. Despite being the lead actor of the series, he was cast in a completely different style. A light villainous touch was also brought into his hero role. Maybe this experiment is because he is a good actor. Sarvajanvidith, who is a good actor, the makers want to make a short film with him. As a result, Rahul Dev Bose's fate has been such a character many times. But at the moment Rahul does not have much work to do. It would be wrong to say no. there is But he doesn't. He took a break. The Ekda lead actor has played a cameo role in the upcoming Bengali serial 'Nawab Nandini'. But he is not interested in doing full-fledged acting in Bengali serials. His goal is different. He wants to move to Mumbai to train himself as a better actor. What did Rahul tell TV9 Bangla in this regard?
What is the work ahead?
Rahul: I am not working in Bengali serials in that sense. Has a cameo in 'Nawab Nandini'.
what is he You are doing a cameo… and why did you suddenly leave the Bengali serial?
Rahul: There are many reasons. I want to do other kind of work. I want to improve myself as an actor. So this break.
Preparation means planning… What's new?
Rahul: I want to go to Mumbai. I want to work in films for now. It can be in Tollywood, it can also be in Bollywood.
Got a job offer?
Rahul: You know it came. I could not do the work because I was working in a Bengali serial. There was a film offer with Kajal Aggarwal. Since I could not do the work, I suppressed my pain for some time. Then I decided myself, it can't go on. I have to make a decision. In this way, the work will not be missed. So I withdrew from the serial.
You were also in the Bengali film 'Ai Khuku Ai'?
Rahul: Yes, I was. There too I was shown as a naughty boy.
Time and again you are shown as the naughty boy…
Rahul: I want to break this stereotype. I also worked in Vikram Chatterjee and Sholanki Roy's 'Hottest Days in the City'. That is the character of a good boy.
Are you a student of Damini Beni Bose?
Rahul: at all Right now my class is going on near Benidi. She is a great actress. Many of our generation have taken training from him. I'm taking it too. He is making me.
People say, actors can't stop working, uncertain career… You took a break, money problem?
Rahul: important question Actually I saved a lot of money from the beginning. Don't go the opposite way. Don't spend on reverse. I have a specific goal in life. I look at that. Uncertainty has never been caused by wrong spending. Trying to make myself a better actor is all consuming. I have that saved money… so I am mentally at peace.
At the moment, Rahul is waiting for a turning character. Dreaming of growing up…
.