CWG 2022: Can Bhavina Patel write golden history in Commonwealth? | Bhavina Patel Assures India Another Medal, Reaches Final Of Para Table Tennis Classes 3 5 At CWG 2022 Can She Give India Gold

Commonwealth Games 2022: Today Bhavina Namben takes on Nigeria's Christiana Ikpewi. The women's singles class 3-5 final will be held at 1 p.m.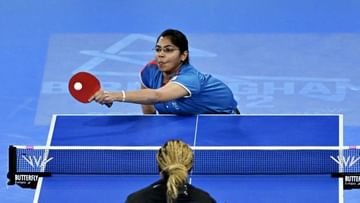 Country people looking at Bhavina
Image Credit source: Twitter
Birmingham: At the ongoing Commonwealth Games in Birmingham (Birmingham Commonwealth Games 2022) India's star paddler Bhavina Patel created history by confirming the medal on Friday. This time today, Saturday, he can build gold history? Bhavina became the first Indian paddler to secure a medal in Commonwealth Games history. The countrymen are hoping for a Commonwealth gold from Bhavina, who won silver at the Tokyo Paralympics.
In para table tennis, Bhavina defeated England's Sue Bailey 3-0 in the semifinals of the women's singles class 3-5 division to reach the final. The women's singles Class 3-5 division semi-final match resulted in three games 11-6, 11-6, 11-6 in favor of Bhavina. I don't think he secured a medal for the country by beating Sue Bailey with a show of strength.
Bhavina is going to give the country her second medal from the Commonwealth Games as a para athlete. Earlier in Men's Para Powerlifting, Sudhir won gold for India in Men's Heavyweight category with 87.30 kg. History is made by Sudhir. Because India has never won a medal from that event in the Commonwealth Games. This time it is Bhavina's turn to write her name in golden letters in the pages of 35 years of history. Today, Bhavina Naben will face Nigeria's Christiana Ikpewi. The women's singles class 3-5 final will be held at 1 p.m.
And she does it again! Congratulations @BhavinaOfficial on making it into the finals. Another medal assured @birminghamcg22. Good luck for tomorrow and keep shining! 👏🏽👏🏽 @Media_SAI @ParalympicIndia @ianuragthakur @NisithPramanik @IndiaSports pic.twitter.com/2zrkewVPx6

— Deepa Malik PLY (@DeepaAthlete) August 5, 2022
It should be noted that even though Bhavina made it to the finals, India's Sonal Patel disappointed in the women's singles class 3-5 semi-finals. Sonal lost 3-1 to Nigeria's Ikpewi. Apart from this, another Indian paddler Raj Aravindan also lost in the semi-final. He lost to a Nigerian paddler in the Men's Singles Class 3-5 semi-finals. But both of them still have one last chance to bring medals to the country this time. Sonal and Aravindan will compete in the bronze medal match today, Saturday.
.