As there is no drainage system, the road is now in the small river Sagardighi

Puber Kalam Webdesk: 21 years ago, after many agitations, the dilapidated road from Sagardighi's Balia via Kabilpur to Tiktiki Para Mor was repaired. Lately in heavy rains, a drop of water on the road takes the chance. People on both sides of the road have blocked their respective places with sandbags like damming a river.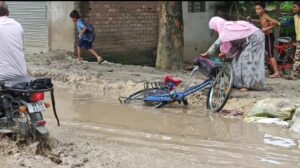 Hundreds of vehicles ranging from school children to school students are not able to leave even a single drop of rain water flowing over the road. Rahmatullah, a local resident, said that arrangements should be made for water drainage on both sides of the road as hundreds of people on the road have become miserable for one or two people. Request to the higher authority to let the water out on this road and facilitate the movement of passengers. A part of the road in Kabilpur has been converted into a small river. Will there be any drainage system for this water? If not, several lakhs of rupees will go down the road.