Amit Shah says Congress agitation sends message against Ram temple
The Ram temple issue has come to the fore again today. Home Minister Amit Shah has mentioned this. He said that today's struggle of Congress is to give anti-Ram temple message and for politics of appeasement. Don't be surprised! If these accusations by Home Minister Amit Shah don't come your way, let us tell you that his statement was about the Congress' opposition to inflation. Even though there was no mention of Ram temple in the protest that went on all day, in the evening when the Home Minister issued a statement, the angle of Ram temple was included in it.
Whether you agree with Home Minister Amit Shah's statement or not, his statement may be strange or illogical, but it is very interesting. The name 'inflation' was nowhere mentioned in his manifesto, whereas the entire Congress struggle was described as a demonstration against inflation and unemployment. There was no mention of Ram Janmabhoomi as a protest against the Congress, but Amit Shah accused him in the evening.
Responding to ANI's query, Amit Shah said, "…every day they (Congress) are conducting programs. As far as today's question is concerned… I am clearly convinced that Congress has taken its policy of appeasement implicitly. Today ED did not summon, interrogate or search anyone in any way. In this case, suddenly today the Congress party protested. I could not understand why the protest was held today. Every day the protest programs were held in their own clothes. Today everyone protested wearing black clothes.
He further said, 'I believe that Prime Minister Narendra Modi laid the foundation stone of Ram Janmabhoomi on this day. This five-and-a-half-hundred-year-old issue was resolved in a very peaceful way. There was no riot or violence anywhere in the country. … The Congress has chosen this day specifically to protest by wearing black clothes as it wants to send a shuttle message that we oppose the laying of the foundation stone of Ram Janmabhoomi and will pursue a policy of appeasement.
On this day @NarendraModi Ji laid the foundation stone for Sri Rama Janmabhoomi Temple, so Congress is opposing it to appease.

ED and inflation are just excuses…Congress's real pain is building Sri Ram temple.

Today, the Congress went a step further and protested in black. pic.twitter.com/g8cOjGjmm5

– Amit Shah (@AmitShah) August 5, 2022
I don't know how many people will agree with Amit Shah's argument, but shortly after his statement, UP Chief Minister Yogi Adityanath's statement came. That too is very similar to Home Minister Amit Shah's statement.

Yogi Adityanath said, "Until now, the Congress protested in plain clothes, but today it protested in black clothes. This is an act of insult to the devotees of Ram. Rama chose this day as today's Ayodhya Day to mark the beginning of the construction of Janmabhoomi.'
Congress on Friday hit the road on major issues like inflation, increase in GST rates and unemployment, according to a Congress announcement. Posters and banners targeted the government in the protests due to inflation, unemployment, rising cooking gas prices, etc. Congress MPs marched to Rashtrapati Bhavan but were stopped at Vijay Chowk. Many party MPs including Congress President Sonia Gandhi, former President Rahul Gandhi participated in this rally. Congress MPs along with Sonia and Rahul also participated in the rally wearing black clothes. Police arrested Rahul Gandhi and several MPs.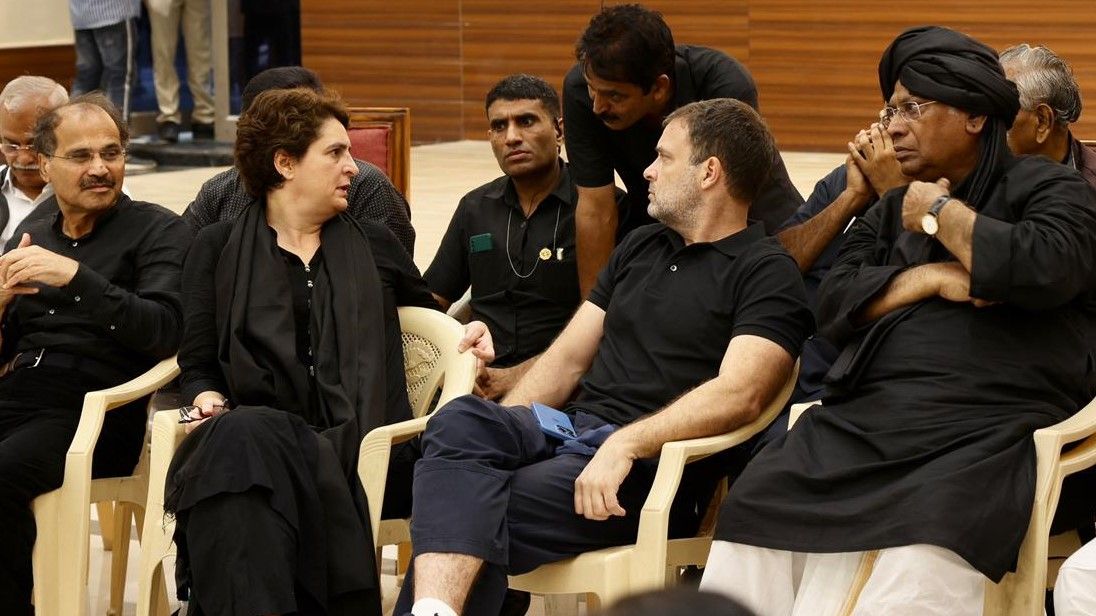 On the other hand, Congress workers, led by party general secretACHI Priyanka Gandhi, also protested at the Congress headquarters. The Congress party has announced that they will march to the Prime Minister's residence. Outside the Congress headquarters, the Delhi Police has put up numerous barricades and deployed soldiers. But the Congress party broke through the barricades and progressed. Police arrested Priyanka Gandhi. After 7pm, all were released from custody after six hours.
,